Please support this forecast by clicking on the photo of the forecaster!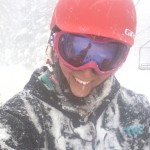 Your forecaster. Click on her to donate. Thank you!
Thank you for using this forecast. Please tell your friends about it! And if you or your friends think this service is awesome/useful/saves you gas money/makes your life more fun, make a donation by clicking on my photo above. Is more fun worth $50/year? $20/year? Donate what it's worth to you (and thank you!), but $12 minimum gets you on the email list (with occasional giveaways) for a year. Thank you for your support, and have fun today!
Random Morning Thoughts
I ♥ logical fallacies.
Mt. Hood Snow Forecast – 5000′

4a-8a
8a-12p
12p-4p
4p-8p
8p-4a
Tuesday
Wednesday
Thursday
Mt. Hood Snow Forecast
When I talked to the grooming crew at Meadows this morning, they were raving about the quality of the grooming. That's partially grooming skill, but it depends a lot on snow quality. Sounds like today is a fantastic day to shred. The snow level today will be 3000′ early, rising to 5000′ in the afternoon. We'll see .4-.6" water value (WV) today, for 3-5" of new snow by 5pm. No more snow overnight. Wind will be light and variable, going to NE 10 in the afternoon.
Wednesday starts off clear or partly cloudy, becoming cloudy in the afternoon with a chance of flurries overnight. The freezing level will be 4500′ early. Wind will be NW 20-25 early and NW 10-15 in the afternoon. No accumulation.
Thursday starts clear or partly cloudy, with low clouds. The freezing level will be 4000′ early, rising to 5500′ in the afternoon and dropping to 5000′ overnight and 2500′ by Friday morning. We'll see .3-.4" WV after 8pm, for 2-3" of new snow by Friday morning. Wind Thursday will be SW 20 early and SSW 25 in the afternoon.
Friday looks colder and snowier, with a few inches of new and moderate SW wind.
Gorge Wind
There's not much going on in the next few days, as low pressure systems hovering off the Oregon coast keep the wind, if not light, at least quite gusty. This morning's gradient is W .08, giving us o'dark-thirty westerlies at 14-17. The upper teen west wind will continue from Hood River to Arlington pretty much all day.
We'll see slightly stronger westerlies on Wednesday as weak high pressure off CA combines with an inland low for gusty west wind at 22-25 from Lyle to Maryhill after noon with gusty 15-18 near Hood River and at Arlington. Maybe at Stevenson too.
Thursday starts with W 10-15, picking up to gusty 17-21 through the whole Gorge as a weather system moves in.
Gorge Weather
Today looks drizzly and cloudy with temps in the mid-40's early and low 50's in the afternoon. Wind will be light west. An expectation of rainbows is justified. Wednesday looks partly cloudy with a few showers possible late. Again, a slight chance of rainbows. Temps will be in the upper 30's or low 40's early and mid 50's in the afternoon with light west wind. Thursday looks partly cloudy, becoming cloudy in the afternoon with sprinkles overnight. No rainbows. Temps will be in the low 40's early and upper 50's late with light west wind. If the long-range forecast is correct, we are headed for 70 degrees on Monday and Tuesday. Please, please let this be right.
Road and Mountain Biking
Sounds like Post was a bit muddy yesterday. Syncline, I'm sure, was great. And Whoopdie, sandwiched in between the two climate zones, was probably near-perfect too. Someone want to tell me the real scoop? The road biking was a little odd, with east wind making for a headwind on the entire valley loop. I don't know how that's possible, but I rode 26 miles into a headwind yesterday.
The Clymb: free membership. Cheap gear. Temira approves. Click to join.
Events – email me if I've missed any outdoor-related events
Today is Tuesday, and that means if you work out hard enough you can earn $12 Prime Rib at Cebu. In order to earn all those calories, consider playing pickup rugby at Collins Field at 5:30pm.
Tomorrow night at Columbia Center for the Arts, writer and river guide Vince Welch will give a lecture on Oregon native and legendary boatman Amos Burg. Thought to be the last person to run all the major western rivers before dams made such voyages difficult or impossible, Burg was also the first to pilot a canoe down the Columbia and Snake rivers and the first to row an inflatable raft down the Green and Colorado rivers through Grand Canyon. That should be pretty cool. Doors at 6:30.
Have an awesome day today!
Temira