Please support this forecast by clicking on the photo of the forecaster!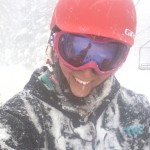 Your forecaster. Click on her to donate. Thank you!
Thank you for using this forecast. Please tell your friends about it! And if you or your friends think this service is awesome/useful/saves you gas money/makes your life more fun, make a donation by clicking on my photo above. Is more fun worth $50/year? $20/year? Donate what it's worth to you (and thank you!), but $12 minimum gets you on the email list (with occasional giveaways) for a year. Thank you for your support, and have fun today!
Random Morning Thoughts
Sometimes my heart breaks with sadness for others. Melissa Joyce and I learned to whitewater kayak around the same time, and although we haven't spent much time together since then, I was devastated to hear of her husband Curt's death on the Grand Canyon last week. He was a beautiful person, and so is she. They had been married just 6 months, and their love was real and true and an inspiration, and it gives me hope for myself, for all my friends and for everyone. You can read Melissa's thoughts from their 6 month anniversary if you like. Nobody deserves such tragedy, much less someone sweet and kind like Melissa. If you can, please make a donation to help her through this terrible time.
Mt. Hood Snow Forecast – 5000′

4a-8a
8a-12p
12p-4p
4p-8p
8p-4a
Tuesday
Wednesday
Thursday
Mt. Hood Snow Forecast
Today's Mt. Hood snow may start off as a form of precip more wet than white, or maybe both, but that should change this evening. The snow level is dropping rapidly this morning – the temp went down 5 degrees between 4:30am and 5:30am. So, we'll see the snow level at 6500′ early, 6000′ mid-morning, 5500′ by 5pm and 5000′ overnight, falling to 3000′ by Wednesday morning. We'll have two weather systems today: the first this morning, with .1-.2" water value (WV) that will likely fall as mixed rain and very wet snow. No accumulation. The second system tonight comes in with .4-.6" WV, for 2-4" of new snow. Wind today will be SW 30 early, rising to SW 45 in the late afternoon and becoming WSW 40 overnight. One very important thing to note today is the chance of thunderstorms and lightning strikes this afternoon.
Wednesday starts with orographic snow showers and sunbreaks. A stronger weather system moves in during the afternoon. The snow level Wednesday will be 2500-3000′ early, rising to 5000′ in the early evening. We'll see .2-.4" WV during the day, for 2-4" of new snow, followed by .4-.6" WV overnight, for 3-5" more snow. Wind on Wednesday will be WSW 20 early becoming SW 15 mid-morning and holding through the rest of the day.
Thursday looks snowy during the day, with clearing and orographic showers overnight. The snow level will be 3500′ all day. We'll see .4-.6" WV between 5am and 5pm for 4-6" of snow, followed by flurries with no accumulation overnight. Wind Thursday will be WSW 30 early and WSW 40 in the evening.
On Friday morning, a warmer, much wetter system moves in over the colder air, setting us up for a Pineapple-flavored downpour day on Mt. Hood.
Gorge Wind
This week brings one offshore low pressure system after another, and that is not a good setup for Gorge wind. That said, we'll see weather systems swing through daily, giving us up-and-down, gusty westerlies. Today starts with an E .03 gradient, but as a couple of weather systems move through, we'll see gusty 21-24 in the eastern Gorge late with gusty 10-13 in the western Gorge. Tomorrow starts with westerlies at 10-15, fading in the afternoon. Expect gusty westerlies at 22-25 in the eastern Gorge on Thursday afternoon.
Gorge Weather
Do you like rain? Oh good. I'm glad to hear you do, because you'll enjoy this week. You'll also probably get a lovely sunrise each day. We'll see a few sprinkles this morning followed by steadier rain this afternoon. Best chance for rainbows is later in the day. Temps will be in the low 40's early and low 50's in the afternoon with gusty west wind in the afternoon.
Wednesday brings light showers in the morning with heavier precip in the afternoon. Again, we're likely to see rainbows. Temps will be in the upper 30's early and low 50's in the afternoon.
Thursday looks showery all day, with rainbows likely and a beautiful sunset distinctly possible. Expect temps in the upper 30's early and upper 40's in the afternoon with gusty, light-to-moderate west wind.
Road and Mountain Biking
Today's incoming precipitation is going to wreak havoc on the trails. That's too bad, because Post was perfectly perfect yesterday. Ride it this morning, if you can. Looks like we'll be back to Syncline for a bit after today. At least it isn't going to snow at low elevations, so the roads will stay as free of gravel as they are right now. Best day for road biking is Wednesday.
The Clymb: free membership. Cheap gear. Temira approves. Click to join.
Events – email me if I've missed any outdoor-related events
Tonight is pickup rugby at 5:30pm at Collins Field. It's also $12 Prime Rib night at Cebu. It's my favorite night of the week for sushi, because everything is fresh. Mmm. Sushi. Coming up tomorrow night, there's Karma Yoga (free or by donation) at 4pm at Flow, there's ping pong at the Armory ($5) at 6:30pm, and there's a fun-yet-depressing movie, Hanna Ranch, brought to you by Gorge Grown, at Columbia Center for the Arts.
Have an awesome day today!
Temira