Please support this forecast by clicking on the photo of the forecaster!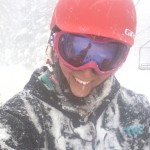 Your forecaster. Click on her to donate. Thank you!
Thank you for using this forecast. Please tell your friends about it! And if you or your friends think this service is awesome/useful/saves you gas money/makes your life more fun, make a donation by clicking on my photo above. Is more fun worth $50/year? $20/year? Donate what it's worth to you (and thank you!), but $12 minimum gets you on the email list (with occasional giveaways) for a year. Thank you for your support, and have fun today!
Interesting Local Opportunity
The Hood River Sister City Committee is immediately seeking candidates for a unique position that places a Hood River County resident in Japan for one year starting this summer. The Coordinator of International Relations position comes with a competitive salary and benefits package and living arrangements in Tsuruta, Japan, Hood River's longtime sister city. The CIR works at the Tsuruta town office and is responsible for helping with exchange activities, maintaining communications between cities and teaching basic English to the townspeople. For more information or to get an application, contact Sister City President Niko Yasui at nyasui@hoodriver.k12.or.us or call 541-490-2876. You can also contact me, Temira, if you have more questions about what the position involves.
Random Morning Thoughts
In my bag today: 5lbs of corned beef and 12 Irish Car Bomb cupcakes. Just another Sunday at work.
Mt. Hood Snow Forecast – 5000′

4a-8a
8a-12p
12p-4p
4p-8p
8p-4a
Sunday
Monday
Tuesday
Mt. Hood Snow Forecast
Yesterday had the best vibe I've ever seen at Mt. Hood Meadows. Incredible. Everyone was happy and smiling. I met so many nice people.
I hope that today is the same. If nothing else, the weather will be similar, with sunshine and relatively light wind. The free air freezing level (FAF) this morning will be around 4000′, rising to 7000′ in the afternoon with NW wind at 15mph all day.
Monday also looks sunny, with high clouds moving in during the afternoon. Clouds will increase Monday night ahead of an incoming system. The FAF Monday will be 8000-9000′, dropping to 6000′ or so by Tuesday morning. Wind Monday will be W 15-20 early becoming SW 20-25 in the afternoon.
Tuesday starts off with the freezing level around 5500-6000′, holding through about 8pm, and then dropping to 4500′. There are two systems on Tuesday – a weak one early and a stronger one after 2pm. I think both will come in as mixed rain and snow initially. We'll see .1-.2" water value (WV) out of the first, between 5am and 11am, and then we'll see another .4-.5" WV out of the second, starting around 2pm. We'll maybe see a trace of new snow out of the first and then 1-3" of new snow out of the second. Wind on Tuesday will be SW 40 early, SW 25 mid-morning and SW 35 in the afternoon and evening.
Wednesday brings orographic snowfall with the snow level around 3500. No significant accumulation is projected at this time, but heavier snowfall comes in after 5pm. Another system is projected for Thursday, with heavier snow accumulation. Unsettled weather continues through Saturday.
Gorge Wind
Today is starting off with a W .05 gradient. That'll give us west wind at 10-15 pretty much all day. Tomorrow starts with east wind at 25-29 at Rooster and 20-23 at Steven's Locks, fading to 15-18 in the afternoon. Tuesday starts with light wind that picks up to gusty W 22-25 in the afternoon as a weather system moves through.
Gorge Weather
Today looks spectacular: sunny with temps in the mid-30's early and low 60's in the afternoon with light west wind. Monday looks fantastic too, with sunshine tempered by a few high clouds in the afteroon and temps in the low 40's early and mid-60's in the afternoon. Tuesday brings some morning sprinkles with rainbows likely, followed by heavier rain after 2pm (rainbows also likely) and moderate west wind. The sprinkles, moderate west wind, and high rainbow chances continue through Friday.
Road and Mountain Biking
Syncline, Post and Whoopdee are all riding great right now. Remember, the Kreps are putting cattle on their land starting Monday, so no parking along Spring Street next week between noon and 5pm, and NO DOGS on Hospital Hill between now and July 1st. That means everyone. Please spread the word, because the presence of your dog on the Kreps' land could cost all of us access. No selfish behavior, please.
The Clymb: free membership. Cheap gear. Temira approves. Click to join.
Events – email me if I've missed any outdoor-related events
Today is the spring demo day at Meadows, with free demos of next year's stuff. Also today, there's rugby at 3pm at Mosier School and ping pong at the Hood River Armory at 3:30.
Have an awesome day today!
Temira