Please support this forecast by clicking on the photo of the forecaster!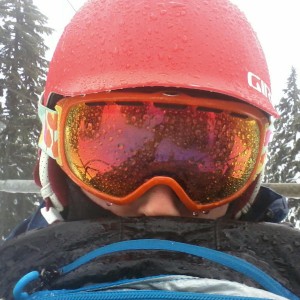 Your forecaster. Click on her to donate. Thank you!
Thank you for using this forecast. Please tell your friends about it! And if you or your friends think this service is awesome/useful/saves you gas money/makes your life more fun, make a donation by clicking on my photo above. Is more fun worth $50/year? $20/year? Donate what it's worth to you (and thank you!), but $12 minimum gets you on the email list (with occasional giveaways) for a year. Thank you for your support, and have fun today!
Random Morning Thoughts
A shitton of snow fell on Mt. Hood in the last 24 hours. More than I predicted, for sure, and I'm going to blame the lack of accuracy on this horrendous cold I caught through my job's petri dish grapevine. See, viruses work through the employees, growing stronger and stronger and stronger, and then they attack the person with the strongest immune system. Me. That's my theory, anyway, and I'm sticking with it. This damned cold is bad enough that it kept me away from Crystal the last two days.
Cool Local Business – Please Support It
The Best Western Plus Hood River Inn has great ski and stay packages for Mt. Hood, starting at $209 for a one-day ski & ride package for two people. Multi-day ski packages are crazy good deals. Save yourself the snowy, stressful drive home and stay in the Hood! For all you visitors and locals, show this add and Buy one entrée, get second entrée HALF PRICE for lunch or dinner, Sunday-Thursday through February 28th. And don't forget about the awesome M-F 4-6pm Happy Hour and Tuesday $12 Prime Rib!
Mt. Hood Snow Forecast – 5000′

4a-8a
8a-12p
12p-4p
4p-8p
8p-4a
Thursday
Friday
Saturday
Mt. Hood Snow Forecast
Anyway, we'll see a lot more snow fall on Mt. Hood today, and I'm going skiing despite feeling like death warmed over. The snow level will be around 2000′ all day. We'll see .6-.8" water value (WV) between 4am and 4pm, for 7-10" of new snow. We'll starts seeing sunbreaks this afternoon mixed with continual flurries through early Friday, for another .1-.3" WV and 1-3" more. Wind today will be WNW 40 all day, maybe a bit stronger early.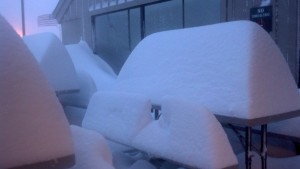 Friday looks clear or maybe partly cloudy, with a few orographic flurries through in for no accumulation. The snow level will be 2500′ early and 1000′ in the afternoon, falling to the surface by Saturday morning. Wind Friday will be WNW 35 early, 35-40 midday and NW 35 in the afternoon.
Saturday looks partly cloudy or clear, with a few flurries possible Saturday night. The free air freezing level (FAF) will be at the surface early, rising to 500-1000′ in the afternoon. Wind will be NW 30 in the morning and NW 20 in the afternoon. Every ski area in the Northwest will park out on Saturday.
Sunday looks clear and cold with the FAF at the surface in the morning, rising to maybe 500′ in the evening. Wind will be WNW 20 early becoming W 20 midday and WSW 25-30 in the afternoon.
Gorge Weather
Things could get interesting around here next week… in the meantime, we'll see temps in the low 40's this morning, rising to the mid-40's in the afternoon with rain showers, sunbreaks and rainbows. There were a lot of rainbows yesterday morning. Tomorrow looks partly cloudy with temps in the ow 40's early and the mid-40's in the afternoon. Saturday starts off with temps in the upper 20's to low 30's with an inversion cloud most likely hovering over the Gorge. Expect partly cloudy sky in the afternoon with temps in the mid-30's.
Now, let's talk about next week. Looks like we're going to see another sub-freezing round of air move into the Gorge. As weak weather systems move over the top of this cold air, we're probably going to see some freezing precip of some sort Monday, Tuesday, and possibly Wednesday. P-type is going to depend on the depth of the cold pool, so let's wait a bit. I'll just say I'm super glad I wired a thermometer into my car yesterday. And I feel really butch having completed that task, thank you for asking. I was awarded 22 lesbian points for that accomplishment by one of my WA friends who is getting married next summer, so so I believe that is an accurate point value. I am not sure how many points I get for being the Weather Girl.
Gorge Wind Forecast
Gradients are sitting at W.05 (pdx-dls) and W .06 (dls-psc) this morning. We'll see westerlies pick up to 13-15 in the western Gorge today, rising to 24-28 in the eastern Gorge as an upper level low moves into BC. Tomorrow brings westerlies at 23-26 east of The Dalles with 13-15 or less in the western Gorge. We'll see light east wind on Saturday and easterlies at 24-28 on Sunday.
Road and Mountain Biking
If you ride for Upper Echelon, you're probably out riding your bike on the road. If you're anyone else, you're probably at spin class. Leave those mountain bike trails alone until they dry out.
The Clymb: free membership. Cheap gear. Temira approves. Click to join.
Events – email me if I've missed any outdoor-related events
Today is Thursday. That means you can play pickup rugby at Henkle Middle School at 3:30pm.
Have an awesome day today!
Temira