Please support this forecast by clicking on the photo of the forecaster!

Your forecaster. Click on her to donate. Thank you!
Thank you for using this forecast. Please tell your friends about it! And if you or your friends think this service is awesome/useful/saves you gas money/makes your life more fun, make a donation by clicking on my photo above. Is more fun worth $50/year? $20/year? Donate what it's worth to you (and thank you!), but $12 minimum gets you on the email list (with occasional giveaways) for a year. Thank you for your support, and have fun today!
Rad local business. Please support it.
There's delicious food at Cebu. Some time in the past month or so they completely changed the menu. It was lovely before, but now there are new delicious things to eat. Like a really yummy spinach salad. And pork ribs over polenta. And of course, there's always the best happy hour in the Gorge, 4-6pm, Monday-Friday. And $12 Prime Rib on Tuesday. Print or show this ad on your phone for buy one, get one HALF price (50% off) lunch or dinner, Sunday-Thursday, through February 28, 2014.
Random Morning Thoughts
You really, really, really should drive up Post Canyon or Riorden Hill Road to 2500′ or so and see the rime ice this morning before the rain knocks it down.
Mt. Hood Snow Forecast – 5000′

4a-8a
8a-12p
12p-4p
4p-8p
8p-4a
Tuesday
Wednesday
Thursday
Mt. Hood Snow Forecast
It's drizzling on Mt. Hood this morning. Hmph. We'll see the free air freezing level (FAF) / snow level around 8000′ today, lowering to 6500′ around 4am Wednesday. We'll see .1-.3" water value (WV) fall as drizzle before 4pm. After 4pm, the rainfall rate picks up, for another 1.5" of rain overnight. Wind will be SW 15-20 for much of the day, picking up to SW 40 late tonight.
By 4am Wednesday, the snow level will be at 6500′. It will fall to 5500′ by 7am, 4000′ around 1pm, and 3000′ tomorrow night, dropping all the way to 1500′ by Thursday morning. We'll see .6" WV early Wednesday morning. That will fall as mixed rain and snow, for 1-2" at 5000′ and a bit more higher up. After 4pm, another .5-1" WV comes in (it's a little soon to be more precise), for 6-10" of new snow by Thursday morning. Wind on Wednesday will be SW 40 early, becoming W 40 by 7am and holding for the rest of the day.
Thursday sees the snow level at 1500′ with a few orographic flurries possible all day long. Wind will be W 30 early, dropping to W 20 midday. Friday looks partly cloudy with light wind with the FAF below 2000′.
Gorge Weather
It would seem that we have a bit of a problem here. The east gradient isn't going anywhere, and there's a lot of moisture coming in after 4pm today. That east gradient will keep cold air pooled in the Hood River Valley (it's in the 20's in Parkdale and 33 at the Columbia River this morning), and that moisture is going to fall as freezing rain, at least in the colder areas. Not good. Not good at all.
So, for today, expect clouds and intermittent very light frozen drizzle, drizzle, sleet, or flurries (depending on where you live). Then tonight, expect heavier freezing rain in cold pockets and heavy rain in warm pockets. The cold air should get scoured out between 4am and 10am tomorrow.
After 10am tomorrow, expect partly cloudy, west-windy weather, becoming more cloudy and rainy after 4pm. Temps will be in the low 30's early, jumping quickly to the upper 40's as the wind switches from east to west mid-morning. On Thursday, we'll see partly cloudy weather with light, intermittent sprinkles and light west wind.
Gorge Wind Forecast
It's nuking. Again. 25 at Stevenson and 48 at Rooster with a E .19 gradient. The wind will slowly drop to 26-30 at Rooster today. Tomorrow starts off light, probably light east, picking up to W 26-30 east of Mosier with gusty W 17-23 in the western Gorge. Thursday brings leftover westerlies at 15-18 early, fading in the afternoon.
Road and Mountain Biking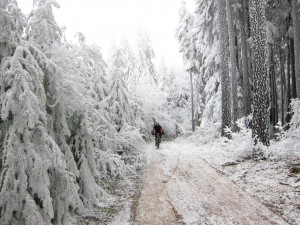 You know how I said it was too cold to go biking yesterday? I didn't take my own advice. I rode up to the top of Borderline, where it couldn't have been warmer than 25 degrees. I was freezing, but it was worth the 5-minute screamy-pukie hand thaw. Actually, my hands still hurt. Anyway, the rime ice in the trees is so thick it looks like it snowed a foot. And there are places where the rime ice is 4" deep on the trails. I had my best pow turns of the season on my bike yesterday. I don't recommend it. Well, I do highly recommend you go up there before the incoming rain knocks all the ice down. But don't take your bike. Go hiking.
The Clymb: free membership. Cheap gear. Temira approves. Click to join.
Events – email me if I've missed any outdoor-related events
This evening brings the lovely $12 Prime Rib at Cebu. And pickup Rugby at Babe Ruth Field at 5:30. And Kayak Polo at the Hood River pool at 8pm.
The aPorkalypse is on February 7th. It's all about bacon, and it benefits a worthy cause., Helping Hands. We need people to cook bacon appetizers, we need people to eat bacon appetizers, and we need people to write bacon poetry. So, mark the date on your calendar, and prepare to eat bacon. Email aporkalypsenow1@yahoo.com for tickets.
Have an awesome day today!
Temira