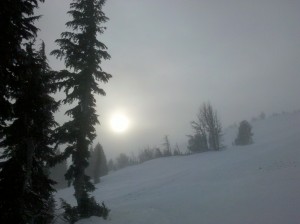 Good morning!
Yesterday's super-easterlies on the slopes kept me from putting out a forecast. We saw gusts to 60 or so, with temperatures hovering near zero. Strangely enough, it didn't feel that cold on the lifts, maybe because I was wearing a down coat and four layers, or maybe because the humidity was so low.
Windspeeds have backed off today, both on the mountain and on the gorge, as the arctic air has made its way into western OR and WA. If you've looked at a thermometer this morning, you can see that. It was 19 in HR when I got up, and it's 16 now. Up on the mountain, the temperature has dropped from -5 to -7. At least it's sunny up there today! And no, I'm not giving you a windsurfing or kiting wind forecast. It's too cold, and I'm not going to be responsible for your death by hypothermia!
If you're thinking about hitting the slopes, bundle up. Here's today's mountain haiku: Cold, crisp mountain air / wakes you up more than coffee / feel alive: make turns! It's 0 at the lodge and -7 at the top of Meadows. Brr.
Out on the slopes, there are some areas of heavy, buttery, windblown snow for "powder" turns. Otherwise, there's good groom and bad, the good being very good and the bad areas being icy. Is it worth going up? Sure. It beats going to the gym for exercise! FYI, my no-go standard is blue ice. As long as I can set an edge, I think skiing is fun. Powder is a bonus. Speaking of the mountain, if you haven't had a chance to check out the Vista Superpipe at Meadows, it's worth a look. It scared me. There's no way in hell I'm dropping in to that thing…. at least not until next year, maybe… minipipe for me!
I'm not sure what's going on at Skibowl or T-line, but I'd love a report if one of you has been up there lately. I know T-line got hit hard by yesterday's wind, and even protected little Skibowl (home of the best nachos), had to shut down the Upper Bowl lift. That's pretty unheard of.
As for the xc-skiing, I have heard reports that it's good, but I'd love to know more. Anyone?
I also have a report that there is enough ice on at least one lake for ice skating! Does anyone have a pair of women's size 9-9.5 skates kicking around?
Down here in the Valley, it's time to bundle up and ride a bike. With the mountain bike trails frozen solid and the streets dry as a bone from the -1 dewpoint, it's a good day for biking… Speaking of, my friend Joe, in Colorado Springs, rode his mountain bike yesterday in 13 degrees. So, what are you complaining about?
And when will this weather change? It doesn't look like we'll see any precipitation until the weekend, at best. And when will it warm up? Not until a system breaks through this ridge of continental air. Friday, maybe.
Have a great day today!
Temira