Random Morning Thoughts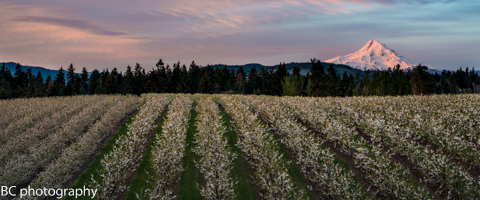 I'm a really busy person, and I take my responsibilities seriously, including the dozens of unpaid hours I put into volunteering each month. Because I'm so busy, I feel like I can't get a pet, because I couldn't give a dog or a cat the attention it deserves. And if an animal is going to love me, I want to love it back. So I am very grateful to my friends who loan me their dogs or let me come over and sit with their cats on my lap. It's nice to get some unconditional furry love on a regular basis.

Thank you for using this forecast!
Please donate to support it!
Thank you to everyone for using this forecast. Does it save you time, gas money, or help you find more wind, powder, or just plain fun stuff to do? Please consider making a donation to keep it going! Use it here for free or make a donation and get on the mailing list for wind for the summer and Mt. Hood snow in the winter. It's not $99/year. Not $50/year. No, just $12.34 or more gets you on the list for 12 months. Do it via PayPal/CC by clicking on my happy photo below. Don't PayPal? You can send a check to Temira @ PO Box 841 in Hood River. Thank you for your support, and thank you for trusting my forecast. You guys mean the world to me.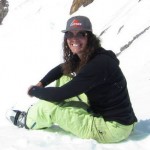 ---
Mt. Hood Snow Forecast – 5000′

4a-8a
8a-12p
12p-4p
4p-8p
8p-4a
Today
Tomorrow
The next day
Mt. Hood Snow
The mountains are looking mighty white above a certain level. I betcha people have been out hiking and shredding. Me, I haven't. Yet.
Now, on to the forecast. Today starts out partly cloudy on Mt. Hood with the free air freezing level (FAF) around 5000′. We'll see clouds move in mid-morning and precip start around 1pm, at which point the snow level will be around 5500′. The snow level will rise to 6500-7000′ by 7pm. So, we'll see an inch or so of snow at 5000′ before the switch to rain, if we're lucky. Then we'll see about 1.5" rain by Monday morning. But hey, snow will be piling up above 7000′! Wind will be NW 25-35 early, swinging to W 15-20 early afternoon and W 35 overnight.
Monday starts with (most likely) rain showers or mixed precip (possible). The snow level will be 6500-7000′ early, holding for much of the day, and then rising to 9000′ overnight as the next weather system hits. The precip will be light through the morning, becoming heavy rain overnight, for a total of 2" rain by Tuesday morning.
We'll see clearing combined with orographic rain showers on Tuesday. The snow level will be 9000′ all day, rising to 10,000′ or maybe more on Tuesday night. Wind will be W 35 for the entire day Tuesday, continuing in to Wednesday. Models are disagreeing a bit on what will happen Tuesday night (we'll likely see light rain), but there seems to be some agreement that Wednesday will be dry and warm after a few morning showers.
Gorge Wind
I saw a pretty sight from my living room yesterday: kites on the river. I hope y'all had fun kiting and windsurfing yesterday! We're starting off with decent gradients this morning: .08 (pdx-dls) and .05 (dls-psc). Expect westerlies at 17-20 from Swell to The Dalles this morning, filling in at Stevenson too, and then fading after 2pm as the next weather system moves in.
Tomorrow brings westerlies at 10-13 or a touch more, likely from Hood River eastward. Tuesday looks similar to Monday, and Wednesday looks like a light wind day.
Gorge Weather
It was only 6:30am when I was writing the forecast, and it was no longer dark. That's because the tilt of the earth changed last night. Pretty cool how we can affect our planet just by changing the clocks, isn't it? Think of what we could do to the planet if we burned hundreds of millions of years worth of sequestered carbon over the course of a couple hundred years…
Anyway, it was a partly cloudy start to the day, but high clouds from a warm front will move in quickly, and rain will start sometime between 1pm and 4pm. The rain will become heavy overnight. Temps today will be near 50 early and in the mid-50's this afternoon. We generally don't see rainbows with warm fronts, so I'll call it an 11% chance.
Tomorrow starts out with rain showers followed by heavy rain after dark. We might see some sunbreaks during the day. Temps will be in the mid 40's early and mid 50's in the afternoon. Rainbow chances are 93%. Tuesday starts with heavy rain, followed by partly cloudy skies and rain showers. Best chance for dry outside playtime is in the afternoon. Temps will be in the upper 40's early and the upper 50's in the afternoon. Rainbow chances are 89%. Wednesday might start with a few showers, but it'll end up partly cloudy and dry with light wind. Thursday and Friday are up in the air due to model differences.
White Sprinter Van of the Day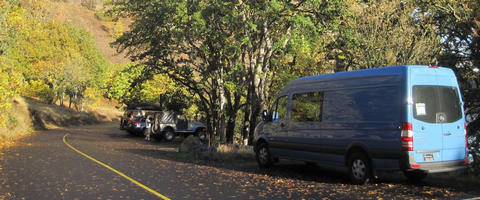 Road and Mountain Biking
Here's an update from Paul B. on the 44 Road trails: "The dirt is excellent, no snow but lots of blow down in some areas. No new BD's from top of Surveyor's to Connector to Bottle Prairie. 8-Mile Loop has only 2 but across 44, lower Lookout (450) has 20+ from Bottle Prairie to 8-Mile Meadow. 10 more from 8-Mile Meadow junction and over upper 8-Mile Point on upper 15-Mile to rd. 4420."
I took a jog in Post Canyon with the Titus' puppy yesterday, and the dirt was near perfect with a few muddy spots, so that should be okay if you get it before this afternoon when the rain returns. I heard there were muddy spots on Whoopdee. Hospital and Syncline should be perfect. Enjoy!


The Clymb: free membership. Cheap gear.
Temira approves. Click to join.
Events – email me if I've missed any outdoor-related events
There's community yoga (free or by donation) at Yoga Samadhi in White Salmon this morning at 9am. There's pickup rugby at 3pm at the Mosier School, and there's ping pong at the Hood River Armory at 3pm.
The latter half of next week is packed with events. On Thursday, head to Double Mountain for a fundraising party in support of Cascadia Wildlands, working to give rural communities a voice when public lands are used for development and other projects. Friday is the annual Fashion Show, benefiting the Hood River Christmas Project. The Gorge Gear Swap is next weekend at HRVHS (drop off gear on Friday, shop on Saturday). The Mt. Hood Independent Film Festival is next Friday through Sunday, Mt. Hood Meadows employee orientation is next weekend, and so is the Oregon Mediation Association annual conference.
Have an awesome day today!
Temira