The best snow forecast for Mt. Hood. The best wind forecast for the Gorge.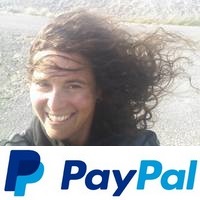 Thank you for using this forecast. Like it? Find it useful? Support it (and me!) by sending some cash my way. What's it cost to support me and get the email version? Not $99 a year. Nope. Not $49. Just $19.99 or more gets you a year. People are added to this list on Thursday and Sunday. My day job is crisis mental health, and I don't have time on other days. Thanks for your patience! Click below to contribute. Thank you!!
Credit card payments use this button
Click here to use your PayPal
Venmo: @theGorgeismyGym
Snail Mail: PO Box 841, Hood River, Oregon 97031
(note: I am not a non-profit entity. The only way to accept credit cards with a user-defined amount is to use the 'donate' button. Thanks for understanding!)

Auto-renewing subscription. New! Awesome!
The Forecast
Today's Gorge Wind – these are ranges for the average speed, not a predicted wind range. =)

Your favorite beach
Dawn
Patrol
9am-
11:30a
11:30a-
3pm
3pm-
dusk
Rooster Rock
bun
tan
time
today
Steven's Locks
12-15
15-18
15-18
17-20
Swell-Hood River
24-27
21-24
15-18
17-20
Lyle to Doug's
13-16
10-13
10-13
17-20
Rufus, etc.
13-16
10-13
5-10
LTV
Roosevelt & Arlington
13-16
10-13
5-10
LTV
Gorge Wind Forecast
It's Thursday morning, and other than dawn patrol on Friday, today's your best shot at westerlies until next week. By Friday afternoon, we'll probably have easterlies. Those continue through Sunday along with hot, sunny weather.
To start off Thursday, we have a low moving into BC, clear sky in Portland, and offshore high pressure. That's started us off with westerlies in the 20-24 range between Viento and Mosier. With Portland temps forecast to equal temps in the Gorge midday, expect the wind to dip. It'll bump back up a little in the evening thanks to the desert heat outpacing the city. So… 20-23 for a few hours this morning from Viento to Mosier with a few hours of 24-27 near the Hatchery. Stevenson starts at 12-15 and builds to 15-18. Early afternoon wind levels out at 15-18 or so between Stevenson and Mosier with light/variable wind to the east. In the evening, the wind returns to 17-20 from Stevenson to Mosier with 14-17 from Lyle to Doug's and light/variable wind in the eastern Gorge. River flow is 361-394kcfs, river temp is 57F, and high temp forecast is 78F. The Hood River Bridge closes at midnight tonight and stays closed through Sunday.
Leftover westerlies are forecast on Friday morning. Dawn Patrol currently looks like 20-23 from Stevenson to Mosier with 10-13 in the eastern Gorge. Expect a steady fade. Models insist that the wind will go calm by early afternoon and then turn light easterly in the evening. High temp: 83F.
Saturday brings easterlies at 20-25 from Rooster to Viento with 5-10mph east of Viento to Arlington to start the day. There will be areas of glassy conditions east of Viento in the morning. In the afternoon, the wind builds to E 10-15 all through the Gorge, all the way from Rooster to Arlington. Sunday's easterlies peak at 20-30 from Rooster to Viento with 10mph to the east. Monday looks light and hot to start the day with a shot at gusty moderate westerlies in the afternoon. Stay cool this weekend, and give those easterly downwind activities a shot!
Jones, Sauvie's, Coast
Coast forecast (north/central/south, waves). Swell forecast provided by NWS. Wind direction northerly unless otherwise noted. Thursday: 20-25+/30-35/35+, W swell 2′ at 11 seconds. Friday: 20-25+/25-30/35+, W 3′ @ 15. Saturday: 20-25/20-25/20-25, SW 3′ @ 17. Jones Thursday: 14-17. Friday: 7-10. Saturday: not windy. Sauvie's Thursday: 11-14. Friday: 13-16. Saturday: E 10-15.
Mt. Hood Snow Forecast – Back on vacation until next fall
Hood River Weather Forecast
Clear and sunny for Thursday. Temps will be in the low 50's early and upper 70's later. Strong westerlies early. Moderate later. No rainbows. Friday will be sunny. Temps will be in the low 50's early and low 80's later. Moderate westerlies early. Light easterlies later. No rainbows. Saturday will be sunny and warmer. Temps will be in the upper 50's early and upper 80's in the afternoon. Light easterlies early. Moderate later. No rainbows.
Looking for a complete Columbia Gorge forecast? Looking for more humor in your weather? Obscenities? You're looking for my TATAS: Temira's Awesome Travel Advisory Service on Facebook.
Local-ish Events
Please let me know of outdoor-related local-ish events. If you don't tell me, I don't know!
Coming up this weekend, there's the Adventure Van Expo both days at the Hood River Fairgrounds. Gorge Pride takes place in The Dalles on Sunday from 9am to 6pm at Ft. Dalles Memorial Park.
Ferment's Tuesday night 4-mile walk/run is at 6pm. At 7:15am on Wednesdays, there's a run from the White Salmon Bakery. At 7am on Friday morning, you can get a donut and coffee for going for a run at Kickstand Coffee. The Small Boat paddlers have a group paddle at 6pm on Thursday at the Hatchery. Post and Pint happens Thursday evenings at 5:30 when Post is not too wet to ride. The women's Post-and-Pinot ride is Wednesday evening at 5:30.
Cycling
Lots of perfect dirt out there right now! All the 44 Road trails are open. Lookout Mountain and Cooks Meadow still have some blowdown and a few patches of snow. Plains of Abraham is open, but Ape Canyon trail has received no maintenance this year. Also, the road connecting Plains of Abraham to Smith Creek closes at noon Monday-Friday and will not be open to bikers during that time. Courtney Road (the road that goes up above Syncline) is closed until October. Do not attempt to use it to access trails. Starting now, you will need a parking pass to park at Post Canyon. This money will support trails. Hospital Hill: cows are out – no dogs allowed. Underwood: do not enter areas that are closed due to logging operations.
Sprinter Van of the Week!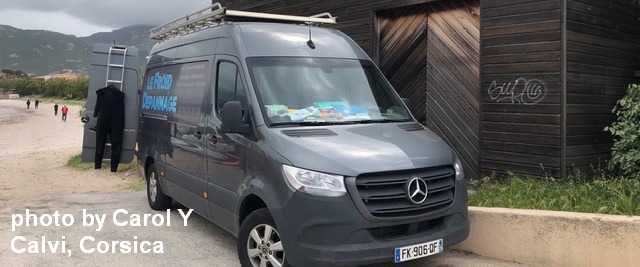 Click here for the Sprinter Van map of the world!!!
Have an awesome day!