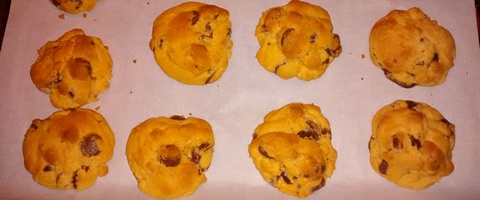 It appears that winter has finally arrived on Mt. Hood, albeit temporarily. But hey, some snow is better than no snow. And the wet and warm Wednesday portrayed in yesterday's models runs has disappeared to the north. All-in-all, it's looking not-too-shabby on Mt. Hood this week. Continued below the chart…
Mt. Hood Snow Forecast – 5000′

4a-8a
8a-12p
12p-4p
4p-8p
8p-4a
Today
5000'
Tomorrow
3000'
The day after
1500'–>4000'
Today starts off with some above-freezing flurries, a common spring occurrence. Expect on-and-off flurries today, followed by steadier snowfall tonight. The snow level will be 5000′ early and 4500′ in the afternoon and evening. We'll see less than .1" water value (WV) during the day, for a trace of new snow, followed by .5" WV tonight, for 4-5" of new snow. Wind today will be SW 30 all day.
The snow level drops to 3000′ tomorrow, and stays there. Steady snowfall during the day gives way to flurries tomorrow night. If the models are correct, we'll see .4-.6"' WV during the day for 4-6" of new snow. That's followed by a trace more overnight. Wind tomorrow will be SW 15 early and W 30 in the afternoon.
Tuesday looks partly cloudy to start with high clouds moving in during the afternoon. In yesterday's runs, we had precip on Tuesday. In today's runs, that precip stays far to the north. The free air freezing level (FAF) will be 1500′ early and 4000′ in the afternoon. Wind will be NW 15 all day.
At this point, Wednesday looks cloudy with no precip. The FAF will be 3000′ early and 8000′ in the afternoon. I like this forecast WAY better than yesterday's forecast of 2" of rain! Let's keep rooting for this forecast. Thursday and Friday look sunny and hot, with temps in the mid 50's at 5000.

Support the forecast – Donate!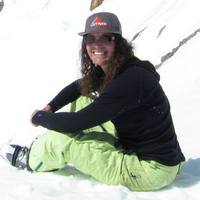 Thank you for using this forecast. Does it save you time, gas money, or help you have more fun in your life? Make a donation to keep it going! Use it here for free or get on the mailing list for wind for the summer and Mt. Hood snow in the winter. Just click on my photo to donate via PayPal or credit card. The email isn't $99/year. Not $50/year. No, just $12.34 or more gets you on the list for 12 months, and sometimes there are cool prizes.Don't PayPal? You can send a check to Temira @ PO Box 841 in Hood River. Thank you for your support, and thank you for trusting my forecast. You guys mean the world to me.
---
Gorge Wind
The easterlies are back this morning in the 15-18 range at Rooster, but they'll fade quickly. As a weather system approaches this afternoon, bringing winter with it, we'll see the wind pick up to gusty W 10-13 through the whole Gorge. Brief periods of stronger wind are possible, maybe even likely, but may do more to frustrate you than get you on the water. Brevity is like that.
Tomorrow starts with light west wind and picks up to gusty W 22-26 in the afternoon east of Hood River. Hood River will probably see gusty 10-13 with rainy 10-13 further west. Tuesday looks like gusty W 13-16 and Wednesday looks like a very light to glassy day.

Random Morning Thoughts
Someone sent me an email yesterday talking about her introversion. We introverts get a bad rap in this country. Our society's ideal is outgoing. Go-getter, boisterous folks, and party animals get the nod in America. We introverts aren't that. We love our alone time. We go-get quietly, leading with consent, consensus, and collaboration. We may be boisterous, but we're not the life of the party; we're the party-goer engaged in a deep and meaningful conversation with one other person, probably in a quiet corner.
And that's okay. Because people come in different varieties, and none of them are good or bad. We've evolved with different traits because that's what benefits society the most – homogeneity doesn't allow for a variety of responses to a given situation. When we all respond the same way, we die, at least when we're talking about avoiding the attack of a saber-toothed tiger. And that's how we evolved.
So, whether you're introverted, extroverted, or somewhere in between, you're valuable. We need your type to keep humanity moving forward. And if you still have doubts about your worth, quiet ones, read Susan Cain's book "Quiet" for a totally different take on who you are.
(don't forget that you're supposed to be writing down something you love about yourself each day this month and putting that nice thought in a mason jar for later…)

Gorge Weather Forecast
I just stepped outside to check the weather. It was cool, still, and quiet. Something about the weather made me feel the need to throw a tray of chocolate chip cookies in the oven. That seems like the sort of thing one would desire on a rainy day, not a cloudy day, but I'm not going to judge myself. I'm baking cookies.
Expect a cloudy day today with sprinkles possible and rain after 5pm. Temps will be in the low 40's early and the mid 50's in the afternoon. Light wind, 37% chance of rainbows. Tomorrow looks mostly cloudy with showers. Temps will be in the low 40's early and the low 50's in the afternoon. Increasing westerlies, 99% chance of rainbows. Tuesday looks partly to mostly cloudy with high overcast sky. Temps will be in the upper 30's early and the mid 50's in the afternoon. Wednesday looks similar, and Thursday and Friday look sunny and hot with temps in the low 70's.

White Sprinter Van of the Day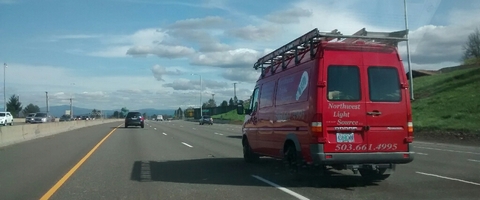 Road and Mountain Biking
I went for a jog in Post Canyon yesterday, and good portions of the trail were way too muddy to ride. I saw lots of people on very muddy bikes. So, please don't ride Post today. Or tomorrow, because it's going to rain. Syncline, Hospital, Nestor, Falls Creek, Lewis River, the Gorge 400, Oakridge, Kitchen Sink and Whoopdee are fine right now. In road bike news, the Tri Club peeps are doing 65 out of Lyle this morning and the Dirty Fingers crew has a priest blessing bikes at 9am followed by a bike ride and a showing of the Milan San Remo race this afternoon. Looking ahead to next week, your sick day looks to be either Thursday or Friday with light wind and temps in the low 70's.


The Clymb: free membership. Cheap gear.
Temira approves. Click to join.
Upcoming Events
The Tri Club folks will be riding the Goldendale Loop out of Lyle this morning. 65 miles, approximately 4000′ of climbing. There's also some sort of bike ride involving a priest blessing your bike at Dirty Fingers at 9am followed by the watching of the Milan San Remo bike race in the afternoon. There's community yoga at 9am at Yoga Samadhi, there's pickup touch rugby at the Mosier School at 3pm, and there's community yoga at Root Down at 6pm. Ping Pong is canceled today. Coming up next weekend, it's the Gorge Roubaix bike race and Gravel Grinder fun ride.
Have an awesome day today!
Temira