Random Morning Thoughts
I managed to clear my schedule yesterday so I could ride my road bike all day in preparation for a 50 mile mountain bike ride I have coming up in a few weeks. As I was cruising along the roads through the farms east of The Dalles, I was thinking about just how spectacular the road biking is here in the Gorge. Very few cars. Great pavement. Stellar views. Forest, desert, and water. The Dalles has recognized this – they're positioning as a road biking destination. I think we here in the western Gorge need to do the same. Road biking of this quality is rare and valuable, and deserves some marketing attention from our Chamber and our cities. That is all. I'm going to nurse my sore butt now.

Thank you for using this forecast!
Please donate to support it!
Thank you to everyone for using this forecast. Does it save you time, gas money, or help you find more wind, powder, or just plain fun stuff to do? Please consider making a donation to keep it going! Use it here for free or make a donation and get on the mailing list for wind for the summer and Mt. Hood snow in the winter. It's not $99/year. Not $50/year. No, just $12.34 or more gets you on the list for 12 months. Do it via PayPal/CC by clicking on my happy photo below. Don't PayPal? You can send a check to Temira @ PO Box 841 in Hood River. Thank you for your support, and thank you for trusting my forecast. You guys mean the world to me.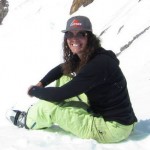 ---
Gorge Wind
We have a nice start to the day with east wind on the river and a .09 gradient at 7am. Expect easterlies to peak at 25-29 at Rooster and 20-24 at Steven's Locks. Tomorrow looks exactly the same as today. Sunday starts with light wind and picks up to west 10-15 late in the day. There is a bit of noise in the weather models for Sunday about a possible marine push on Saturday night. If that happens, Sunday will be windier than currently forecast.
Monday looks like a west wind day, and Tuesday, from way out here on Friday, looks like a very windy day, and I am attempting to rearrange my very busy schedule to accommodate Mother Nature.
Voting for the CGWA awards opens next week. The winners will be announced on Thursday, September 11th, at the end-of-year party, 6-10pm at Springhouse Cellar. Free admission; Food, beer, wine available for sale; Live music, Grant Myrdal Slide Shows and more festivities! I nominated Shane Lebsack for "Most Stoked", because every day is "awesome" for Shane. So keep that in mind when voting opens. =)
Out on the coast, you'll see NE wind today, in other words, offshore, with NW swell 5'@8. Tomorrow brings light offshore wind with NW 4'@8. Sunday starts off light and picks up to N wind 10-15 with NW 4'@7. The coast is going to be very warm the next couple of days: at least in the 80's and possibly in the 90's, so maybe this is the time for that surf trip you've been putting off.

Today's Gorge Wind – these are ranges for the average speed, not a predicted wind range. =)

Your favorite beach
Dawn
Patrol
9am-
11:30a
11:30a-
3pm
3pm-
dusk
Rooster's Rocks
E 11-13
E 15-18
E 20-23
E 13-16
Steven's Locks
E 5-10
E 13-16
E 15-18
E 5-10
Hatchery/White Salmon Sandbar (minus a few for Hood River)
light
light
light
light
Doug's, Lyle, Rowena
light
light
light
light
Rufus, etc.
light
light
light
light
Roosevelt, etc.
light
light
light
light
Temira's sail: 35-40: 2.9 / 30-35: 3.2 / 26-30: 3.5
23-26: 4.0 / 20-23: 4.5 less than 20: something bigger!
Tonia's kite: 35-40: 4m / 30-35: 4-6m / 26-30: 5-7m
23-26: 7-9m / 20-23: 8-10 / 15-20: 10-12 / 10-15: 13-15.
Advertising Worth Reading
Good Medicine Tea Lounge

The Good Medicine Lounge is bringing the world's premium tea to the Gorge. The Tea House focus is on organic, bio-dynamic, sustainable, and grower direct teas from all flavor categories and all tea growing regions. Tea drinkers can relax in a restored craftsman living room while enjoying a light food menu and sampling from the large inventory of classic teas, flavored teas, blends, and tisanes. Loose leaf tea is also available in bulk purchases with a variety of pots, mugs, and infusers available to help consumers steep at home. The Good Medicine Lounge: 1029 May Street. 7am-3pm, Monday-Friday.
Gorge Weather
It's another chilly morning in the Gorge with temps in the mid 40's. Expect afternoon highs in the mid 80's under sunny sky. Tomorrow starts with temps in the low 50's and tops out in the upper 80's You'll see lots of sun tomorrow too. Sunday, and this may chance due to discrepancies in the models, looks sunny, with temps in the mid 50's early and low 90's in the afternoon.

White Sprinter Van receiving a wedding proposal from a tan human being.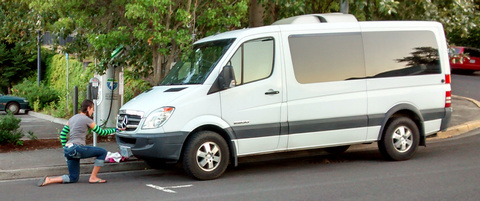 Road and Mountain Biking
The road biking was indeed fantastic yesterday. I highly recommend riding the stretch of Highway 30 from The Dalles to Mosier in an east wind. It's just blissful. If you would like to pick up an Ellen Dittebrandt memorial t-shirt to support finishing the missing section of the Historic Columbia River Highway Trail, you can do so here.


The Clymb: free membership. Cheap gear.
Temira approves. Click to join.
River Levels / Cheezburger update
The John Day Dam is reading 59-65kcfs. The Dalles Dam is putting out 110kcfs. The White Salmon is at 1.75′. If you plan on running the White Salmon yourself, remember that there is a riverwide log about 150 yards below Cave Wave. The Columbia River is 72 degrees. Cheezburger sent me a photo of a White Bike Trainer yesterday.

Events – email me if I've missed any outdoor-related events
If you want to get out of the house this evening, head to Hood River for First Friday and the 4th annual Rock Paper Scissors competition at Andrew's Pizza.
Also today, Huckleberry Festival kicks off in Bingen and Pacific Crest Trail Days kick off in Cascade Locks. Both those events continue through the weekend. Tomorrrow is the Aluminum Man triathlon and duathlon in The Dalles at Riverfront Park. Then on Sunday, Skibowl hosts the 4 Hours of Downhill Race, and Hood River has the Rural Rampage bike race, benefiting Hood River Middle and High Schools.
On Saturday, head to Family Man in Post Canyon from 10-3 for free demos of Kona bikes. Finsh off the weekend at the Waterfront Park in Hood River on Sunday evening with a picnic party and music by Toy Gun Conspiracy and Cripple Hop to celebrate the park finally being done.
Have an awesome day today!
Temira